Productivity: Automate a seamless and time-saving process to generate, check artwork or design of road signs as per latest LTA's SDRE and design manual
Background
Please refer to the following attachments, Annex A for more info on the sample of the road signs and Annex B on the design manual for signs.
Feedback gathered from road signage contractors/consultants calls for a solution to reduce human errors and improve current approval process through process automation in order to achieve a quicker turnaround in application process of road sign designs.
~2600 signage artwork received per month and it requires an estimated 1320 manhours to check and approve signage designs.
Manual checks are still required, despite recent efforts to lessen, to ensure accuracy of signage. This includes checking of size variances due to inclusion of expressway logos/distance markers, etc.
Strategic importance of the project:
To synergise with Industry players for quicker turnaround in application process of road sign designs
Use of technology to reduce human errors and improve overall work efficiency by automating repetitive yet time-consuming processes
To leverage on technology to do self-checks on traffic plan submissions.
Requirements
To achieve 50% reduction in manhours & thus increase in efficiency level in the whole process from initial designing stage to the final approval.
Solution Requirements:
To auto-generate road signs artwork with input parameters (e.g different types of signs – directional/facilities/information, content, categories, etc).
To generate design artwork and return comments on road signs design meeting required standards (Refer to Annex A & B) in real-time with 100% accuracy through a software/programme or equivalent. Automated process up till final review by LTA.
Software/programme should be able to determine if the design meets LTA's standards and/or requirements. In the event, if standards and/or requirements are not met, software/programme should be able to provide rectification comments for design rework.
Image of proposed workflow: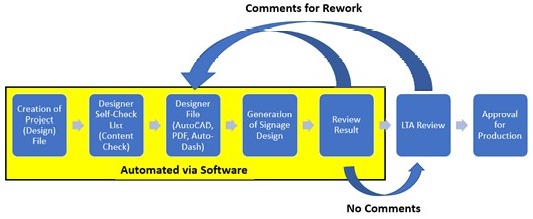 Trial phase to include participation of nominated vendors/designers/contractors for product validation.
Solution should be compatible and have the capability for integration with other government systems such as WOG or LTA central software, by 2023
Solution is able to read digital files in different formats (e.g DGN, DWG, PDF, etc.) from various design softwares (e.g AutoCAD, Microstation, Adobe)
Desired Outcome
~2600 signage artwork received per month and it requires an estimated 1320 manhours to process. For solution providers to propose commercial model of solution.
Open to review solution providers' commercial plan.
Solution to be ready by 2023. To explore deployment opportunities, upon successful completion of solution development.
Development Timeframe
12 months from project commencement
Additional Info
Development funding of up to 80%* of qualifying project cost, which includes pilot sites, user guidance and information related to the problem statement.
*Till end of March 2022
Challenge
Xcite Innovation Call
Proposal submissions are open from 3 Sep 2021 09:00AM to 15 Nov 2021 06:00PM