Lean Maintenance: Develop a system to detect and divert away water seepage to reduce the formation of potholes and road stains on road pavements
Background
High hydrostatic pressure from surrounding water features result in frequent water seepage onto road pavements, especially into the tunnel structure, reducing the bonding strength of the premix material, leading to the formation of potholes and road stains on the road/tunnel pavements. Solution sought to address public concerns and safety hazard due to the defects. MCE tunnel to be used as pilot site for the developed solution, with an expected outcome of at least 80% detection rate.
Please see the images of wet potholes and road stains below. The pavement configuration has already been provided below.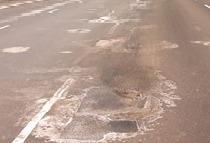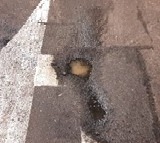 Citing MCE as a use case, here are the defects detected:
Breakdown of the road premix (Image and details on surface and subsurface)

No previous attempted solutions for the detection / diversion system. Current method of repair is to use PU grouting to seal localised water seepage spots.
Strategic importance of the project:
To address public feedback on water seepage and road stains in road tunnels, which are unsightly and aesthetically displeasing
To pre-emptively manage the formation of the potholes
To reduce disruption and the need for frequent lane closures during the rectifying of the potholes and removing of the road stains
Requirements
At least 80% reduction in the formation of potholes and road stains along the selected segment of the tunnel road pavement.
Solution Requirements:
To detect water seepage movement and divert / direct them away into the tunnel's drainage system to reduce the formation of potholes and road stains
We do not restrict the inspection / detection of seepage into any specific method. As the concrete base slab at the seepage area is 2m thick, we recommend that the inspection / detection method should be able to detect at least 1m into the concrete base slab.
To generate report for seepage movement within 1 week after inspection
To withstand traffic loading without displacement in a road tunnel environment and should not result in further road defects such as cracks on tunnel pavement
To maintain structural integrity and performance of the premix layer and the tunnel structure
Easy to maintain and will not result in inconvenience to motorists.
Safe for users to operate, outdoor, all weather, 365-days, 24/7
Desired Outcome
Yearly maintenance of 3520km of roads (9500km, lane) and 16.9km of road tunnel pavement (108.5km, lane). For solution providers to propose commercial model of solution.
Open to review solution providers' commercial plan.
The solution is to be ready by 2023. MCE tunnel to be used as a pilot to further explore deployment opportunities.
Development Timeframe
6-12 months from project commencement
Additional Info
Development funding of up to 80%* of qualifying project cost, which includes pilot sites, user guidance and information related to the problem statement.
*Till end of March 2022
Challenge
Xcite Innovation Call
Proposal submissions are open from 3 Sep 2021 09:00AM to 15 Nov 2021 06:00PM